Yesterday morning, Austin's famous
Oasis
restaurant
burned to the ground
. The Oasis has been an Austin institution for as long as I can remember.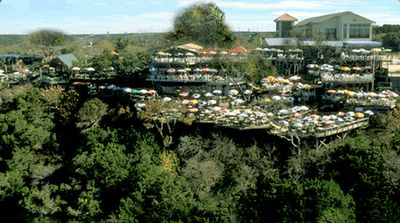 I grew up in Austin, and probably went to the Oasis for the first time with my parents when I was in my early teens. At that time, the prices were too high and the service wasn't that good; but some years later, the restaurant really turned around. The prices remained high, but the service really improved. In recent years, the restaurant has expanded to be able to serve almost 2000 guests on more than 40 different decks overlooking Lake Travis.
The Oasis was known for its views of the lake. It became a tradition there to ring a bell when the sun had set. Of course, Texas has wonderful sunsets.
It's too bad that the Oasis is gone. I guess it was it was insured, so the owner will probably rebuild. The original Oasis was a labyrinth of connected decks and stairways precariously cantilevered out over the steep hillside. It was sometimes hard to find one's table without help from one of the staff. Any replacement building will surely lack some of the charm of the original; but it will no doubt also have a layout that's easier to navigate.